The hydraulic system:


The height control system:
The Restrictor valve
The next drawing is a cross section of the restrictor valve.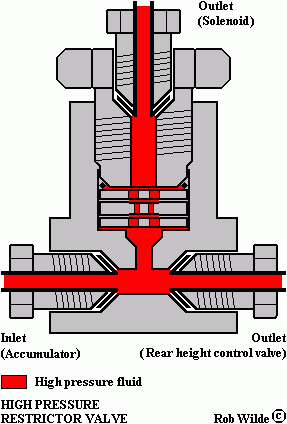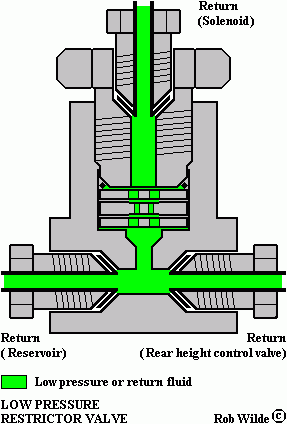 You see an explanation of this cross section in the next drawing:



The fluid that flows to the solenoid valve, goes through two restrictors. These are meant to restrict the switching over of the solenoid. One restrictor is located in the high pressure circuit, the other in the return pipes. The restrictors reduce the pressure (and so the speed) of the fluid by leading them through very small channels. These channels are formed by a packet of patches that are stacked. The middle patch has a hole in the middle with a small cylinder, the restrictor roller. The upper and lower patches are similar to each other and look like two buttons of shirts. On the later models (from chassisnumber 30001) there are four holes in these patches.
When the restrictor in the return pipes is choked (by dirt or old fluid) the height control valves will stick in the fast mode. This can cause such a high pressure of the fluid in the height control valves that during spring deflection the pressure in the return pipes becomes too high. Because the height control valves are fitted in the same circuit as the four front brake pistons, the car will brake spontaneously. This is one of the reasons why the fluid must be replaced regularly.
The patches with the restrictor holes look as follows: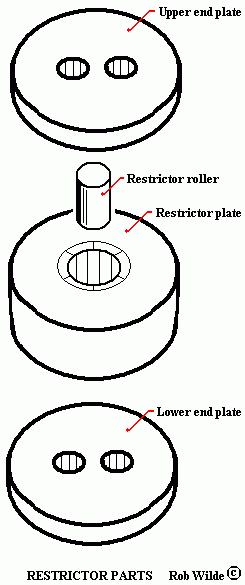 The next drawings show the restrictor when watching the bottom of the car the height of the back seats: