The hydraulic system:


The height control system:
The Rear ram valve
In the next animation two drawings illustrate the working of the rear ram valve.
For a view on each separate drawing you can go to the bottom of this page.

The next drawing shows the rear ram valve again but now provided with some explanations:




A height control ram is mounted on each of the rear springs of the car. The rear rams will lift or lower the rear of the car in order to keep the correct height. On early models two rams were also mounted at the front of the car. These were omitted on all cars produced after serial number 7404. The rams are mounted on the spring holding bracket by a nut. Inside the ram a piston moves up and down. This piston is fitted on the spring holding bracket. When high pressure fluid runs into the ram cylinder the piston is pushed down and the car is lifted. The rear rams are activated by the rear height control valves. On the rams two pipes are fitted, one high pressure fluid pipe and one bleeding pipe. The rams keep the car on the correct level when passengers enter or leave the car or when heavy luggage is put in the trunk.
The next drawing shows the rear ram valve. You can find the rear ram valve in the left and right corner of the trunk above the rear wheels behind the inside lining.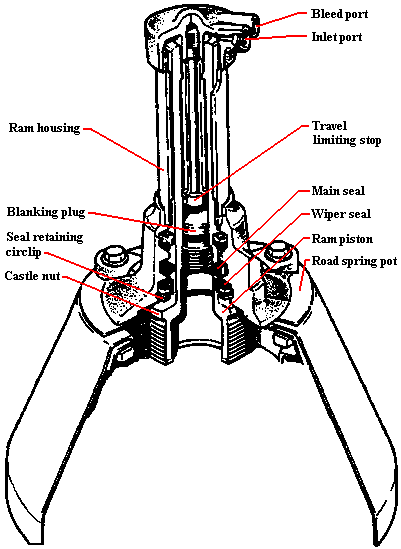 The animated drawing at the top of this page is built-up with the next drawings.