I am a member of three RR&B clubs. Although I almost only visit meetings in The Netherlands, all clubs are very interesting because of their very beautiful club magazines.



De Mascotte
In 1996 I subscribed to De Mascotte, in the Netherlands the biggest club of Rolls-Royce and Bentley owners. This club has a club magazine called "De Mascotte". I published my first contribution to this magazine in 1997. From 2002 on I have uninterruptedly written articles in this magazine, many of them about Silver Shadow models. During five years I have been the chief editor of the club magazine and during eight years I (created and) maintained the club website.
During my membership I have given several presentations about Silver Shadow models and since 2010 also about the Silver Spirit generation.
In January 2009 I was appointed honorary member of De Mascotte.






RROC
In 2004 I became a member of the RROC, the American "International Club for Rolls-Royce and Bentley Owners & Enthusiasts". This club has a club magazine called "The Flying Lady".
In the magazine of the affiliate club "Modern Car" I have published several articles about model years from the Silver Spirit era.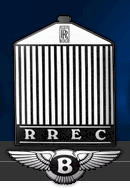 RREC
In 2006 I became a member of the RREC, the English "Rolls-Royce Enthusiasts' Club". This club has a club magazine called "The Bulletin".

From mid 2014 together with two other RREC members I have been the registrar of the SZ Register. All details can be found on rrsilverspirit.com/sz