From the beginning Rolls-Royce offered many "standard" colours. During the years the Silver Shadow was sold some colours were added and some colours were deleted. For determining the standard colours I used some Sales Manuals. In these books the available standard colours were listed. For this website I used the Sales Manuals from 1966, 1971, 1974, 1978 and 1979.
For the Corniche models a separate range of standard colours was created. These colours could also be specified for other models but at extra cost.
For the Camargue a separate colour range was composed that could not be ordered on other models.

Every colour was optional
Basically a customer could order his Silver Shadow, T, Camargue or Corniche in every colour he (she) wished. Many customers used this option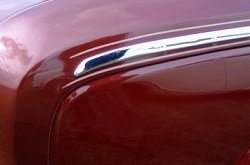 and ordered a colour that had a special meaning in their personal life.
In 1966 non-standard paints costed $ 90 extra (US) for the exterior, and $ 110 for the interior. In 1975 this extra price was £ 111.45 (UK).
Non-standard colouring caused a lengthening of the production time of about 4 weeks. In 1971 this extra time was increased to 12 weeks.

Colour codes
On several pages the colour codes of the standard colours are mentioned. However, it is risky to use these codes for refinishing your car without testing the result in advance. Current paints have another chemical composition, and a carefully chosen colour can easily differ from the "old" colour of your car. I emphasize to test the colour before you paint your car. Also have a look at Disclaimer.

Today paints often cannot be applied to old paints. It is possible that the chemical action of the paints influence each other and damage the paint. It is recommended to apply a bare metal respray. To be sure, get all the information you need from specialists before starting to paint your car.

Paint suppliers
Rolls-Royce had contracted several paint suppliers. Most colours were supplied by ICI, who delivered more than 75% of the colours. Another supplier was INMONT, who delivered colours like Cardinal red and Moorland green. VALENTINE was supplier of the colours Sage green and Smoke green. And DOCKERS delivered the colour Sable. The last supplier was MASON whose name was connected to the very popular colour Mason's black. But Mason also delivered colours like the striking Tudor red.

Two-tone colour schemes
Two-tone colour schemes were combinations of two colours, one at the upper side of the car, the other at the lower side. These colourschemes were delivered at no extra cost. Many buyers of a Silver Shadow choose for a two-tone scheme. For more information have a look at the page that is dedicated to the two-tone colour schemes.
When on this site a colour scheme is called "black over red", then the upper colour is black and the lower colour is red.

The Fine lines
Fine lines are hand painted in a colour chosen by the customer and noted on the order form. There are normally two lines, one above and one below the moulding on each side of the car. Lines are also painted on the hub caps. On the two small pictures on this page you see a few examples of fine lines. They are painted on the 1974 Silver Shadow Long Wheelbase LRC20551 that was finished in Cardinal red.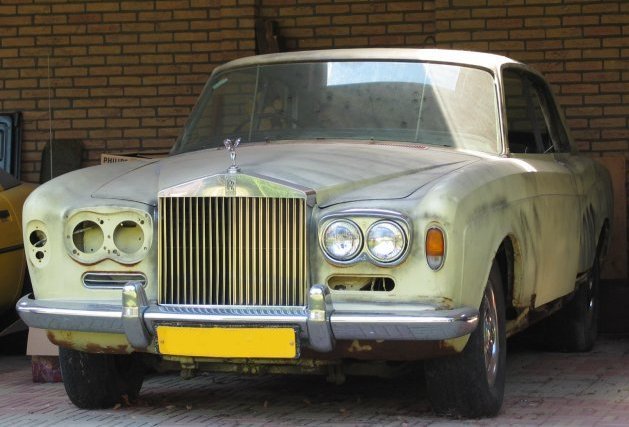 1969 Rolls-Royce Silver Shadow Mulliner Park Ward 2-door saloon CRH7110, waiting for a new colour.