The hydraulic system:


The fluid pressure control:
The hydraulic reservoir
The next drawing is a cross section of the hydraulic reservoir.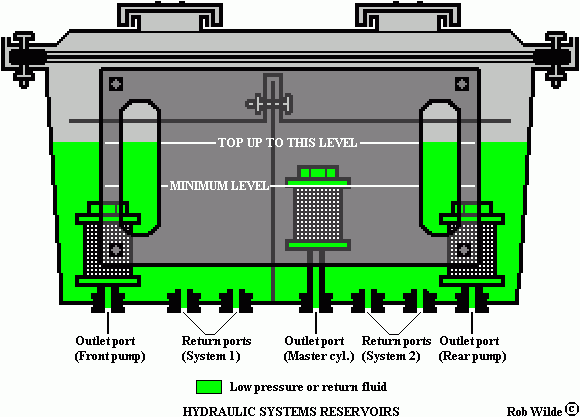 The next drawing shows the reservoir again but now provided with some explanations:


The hydraulic reservoir is fitted in the left side of the engine compartment. The reservoir is divided into two separated chambers. A baffle plate is fitted in order to prevent the fluid from splashing. Two glasses in the front of the reservoir body allow you to check the level of the hydraulic fluid. The front compartment provides the front accumulator from fluid and is part of system 1. The rear compartment is connected to the rear accumulator and is part of system 2. This system 2 is also connected to the height control system. The master cylinder brake system (when fitted) is connected to the rear compartment. Both systems have their own filters. Later cars have reservoirs that are provided with level sensors that are connected to two warning lights. If the level should decrease below certain values the warning lights will illuminate.
The system may only be filled with Castrol RR363 hydraulic fluid. This fluid takes care of the lubrication of the pumps. After chassis number 50001 the hydraulic fluid is replaced by mineral oil. These late systems can be recognized by green labels that are placed on top of the reservoir and on most of the hydraulic system components. The two different types of fluid may never be mixed or replaced by one another.

The next drawing is a cross section of the reservoir. The reservoir is situated below the bonnet at the left against the cowl panel: